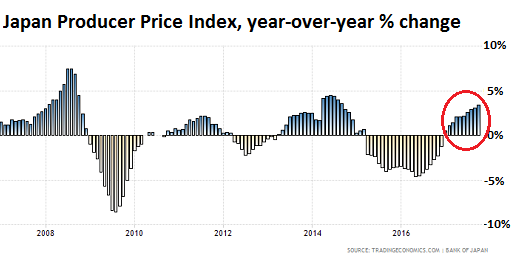 Even from Japan – whose export producer prices are soaring.
The oil price collapse that started in 2014 pushed down input costs that companies – the 'producers' – faced. And producer price indices, which measure inflation further up the pipeline, plunged. But this is over. And the biggest export powerhouses in Asia that have ballooning trade surpluses with the US, show how.
The Producer Price Index in Japan – the 'Corporate Goods Price Index,' as it's called there – jumped 3.4% in October compared to a year ago, after already climbing an upwardly revised 3.1% in September, the Bank of Japan reported on November 13. It was the tenth month in a row of year-over-year gains and the highest annual rate since September 2014, by which time the collapsing energy prices were mopping up any inflationary pressures (chart via Trading Economics):
This post was published at Wolf Street on Nov 12, 2017.