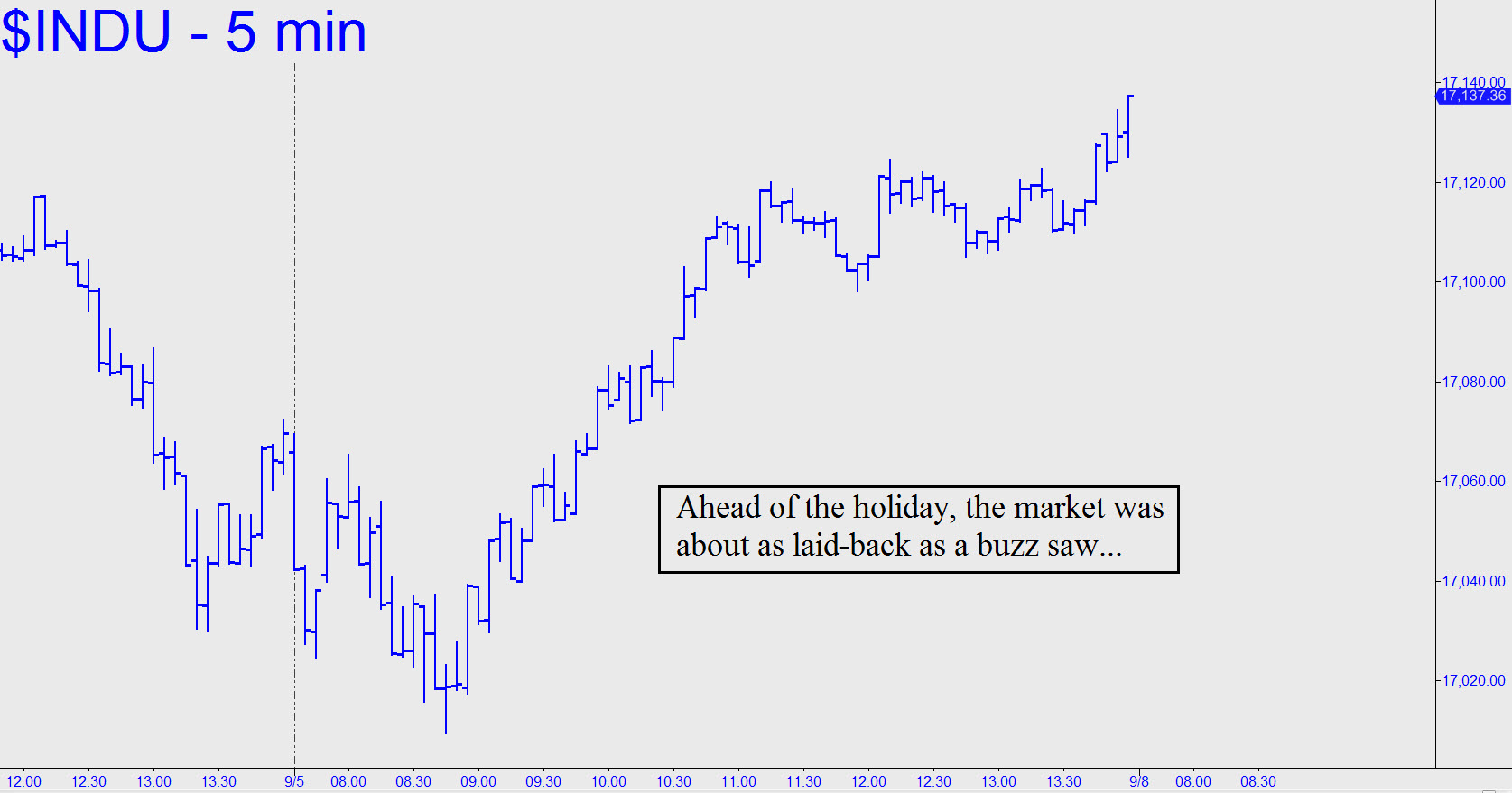 Even rigged markets are entitled to a little rest now and then, wouldn't you say? If so, they passed up the opportunity to do so on Friday ahead of a three-day holiday weekend. Instead, while nearly everyone in America was fixing to usher out summer in whatever way might retain its savor best , stocks were ratcheting higher with a cheerless determination that was about as laid back as a buzz saw. You can see this in the chart below. The Dow Industrials bottomed a little more than an hour into the session; then they forged ceaselessly higher until the closing bell imposed a mandatory, three-day time-out. If buyers are acting this aggressively in the lazy, hazy, waning days of summer, just imagine what they are capable of between now and Thanksgiving, when the country traditionally gets back to work with a vengeance.
Whatever happens, and no matter how convinced we are that the stock market is forming a broad top, we've grown weary of trying to short it. Some would say we're crazy to even try to get in the way of a bull that has been rampaging for 65 months. The Dow is on its way to 20,000, permabulls insist, so why try to swim against the tide? Maybe they're right. Although we can think of a dozen great reasons why the Dow can't possibly keep rising in the months ahead, the arguments would be the same ones we've made all along. The simplest and most compelling of them is that the stock market's stellar performance has gotten way, way ahead of an economy that can't seem to get off the launching pad. But that's been true for years, and it's difficult to imagine what might change this dynamic no matter how perverse it seems. As for the spurt in GDP growth alleged by the spinmeisters, we're not buying it. What we see is stagnant wages, a housing recovery that is completely spent, budget tightening at all levels of government save federal, a manufacturing sector so out-of-practice that it's unable to reap the full benefit of lower energy costs, and job creation that is egregiously sub-par in both quantity and quality. What's left? As far as we can tell, only a car-leasing boom that has probably reached the saturation point.
This post was published at Rick Ackerman BY RICK ACKERMAN ON SEPTEMBER 8, 2014.