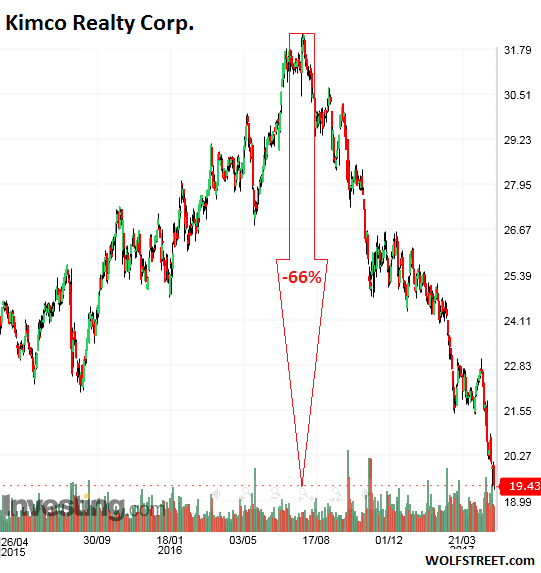 Even the biggest.
The closure of thousands of retail chain stores last year and this year, with many more to come – from big anchor tenants such as Macy's to smaller stores such as Payless Shoes – and the bankruptcies and debt restructurings ricocheting through the industry are having an impact on retail malls. And mall investors – that may include your retirement account – are getting crushed.
The commercial real estate industry has been claiming that these shuttered retail spaces are being converted into restaurants or fitness centers or smaller shops or whatever. And zombie malls are leasing out their parking lots to car dealers to store their excess new vehicle inventory, and that everything is going to be fine.
But investors in publicly traded Real Estate Investment Trusts that were for years among the stars in the S&P 500 are voting with their feet.
It's not that these REITs are doing all that badly on an operational basis. They're hanging in there. But many of the announced store closings and bankruptcies haven't worked their way through the pipeline.
Shares of these REITs all peaked together at the very end of July 2016 and have since then plunged in unison.
This post was published at Wolf Street on May 9, 2017.