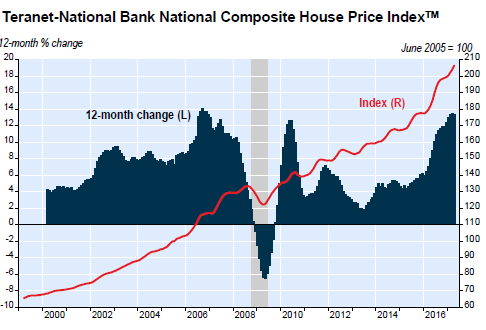 This is how it's 'understated.'
We have long lamented the persistent understatement of soaring US housing costs in the Consumer Price Index, and thus the understatement of overall inflation as experienced by people with a roof over the head. But now two economists from the National Bank of Canada spell out their doubts about the housing inflation component in Canada's overall CPI.
The Consumer Price Index in Canada rose 1.6% in April year-over-year seasonally adjusted, Statistics Canada reported last week, same as in March, but down from 2.0% in February. Over the past four years, CPI inflation ranged from 0.4% to 2.4%.
For inflation lovers, it was too tame. But Canadians – like Americans who're in a similar boat – have long complained that life overall is getting a lot more expensive a lot faster than reflected in the CPI. And a big part of that expense is housing costs for owners and renters.
This post was published at Wolf Street by Wolf Richter ' May 23, 2017.