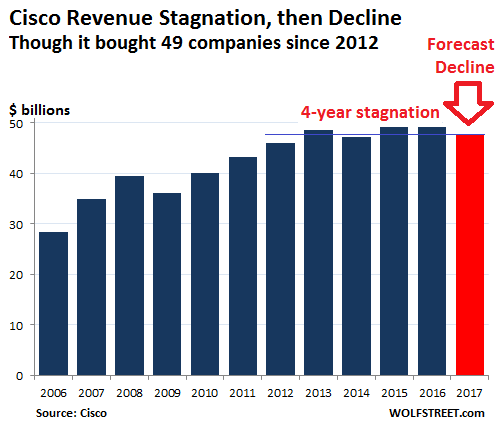 It has a history of tripping the markets.
Revenues in the current quarter – Q3 of its fiscal year – would drop 4% to 6% year-over-year, Cisco said after hours today. Shares plunged 8% to around $31 in late trading. Timing of the announcement was impeccable: Minutes after the Dow finished its 372-point plunge.
It also announced 1,100 layoffs on top of the 5,500 layoffs it revealed last August (7% of its workforce at the time), and it added $814 million in charges related to those restructuring efforts, spread over Q3 and Q4.
Cisco has a history of tripping up the markets.
In an earnings call in November 2007, then CEO John Chambers famously used 'very lumpy' to describe growth in the US. The S&P 500 and the Dow had just edged down from all-time highs. The market was still blissfully ignoring the hissing from the housing bubble and the stench from the banks. Cisco's quarter had been phenomenal, with revenues up 17%. But after some gushing, Chambers said revenue growth in the US would be 'very lumpy.' The Financial Crisis was next.
This post was published at Wolf Street by Wolf Richter ' May 17, 2017.