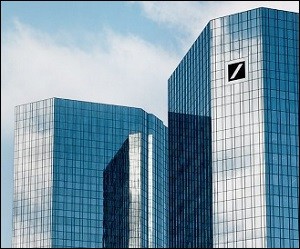 If Deutsche Bank is trying to remove itself from scandalous headlines, it's not doing a very good job at it.
The German language newspaper, Handelsblatt, reported yesterday that Special Counsel Robert Mueller has subpoenaed bank records from Deutsche Bank relating to President Trump and his family members. Handelsblatt writes that 'The former real-estate baron has done billions of dollars' worth of business with Deutsche Bank over the past two decades, and First Lady Melania, daughter Ivanka and son-in-law Jared Kushner are also clients.' The central focus of the Mueller probe is the Trump campaign's involvement with Russia.
On May 23 of this year, Congresswoman Maxine Walters and other House Democrats sent John Cryan, CEO of Deutsche Bank, a letter regarding its ties to the Trump family and Russia. The letter began:
'We write seeking information relating to two internal reviews reportedly conducted by Deutsche Bank ('Bank'): one regarding its 2011 Russian mirror trading scandal and the other regarding its review of the personal accounts of President Donald Trump and his family members held at the Bank. What is troubling is that the Bank to our knowledge has thus far refused to disclose or publicly comment on the results of either of its internal reviews. As a result, there is no transparency regarding who participated in, or benefited from, the Russian mirror trading scheme that allowed $10 billion to flow out of Russia. Likewise, Congress remains in the dark on whether loans Deutsche Bank made to President Trump were guaranteed by the Russian Government, or were in any way connected to Russia. It is critical that you provide this Committee with the information necessary to assess the scope, findings and conclusions of your internal reviews.
'Deutsche Bank's failure to put adequate anti-money laundering controls in place to prevent a group of traders from improperly and secretly transferring more than $10 billion out of Russia is concerning. According to press reports, this scheme was carried out by traders in Russia who converted rubles into dollars through security trades that lacked any legitimate economic rationale. The settlement agreements reached between the Bank and the New York Department of Financial Services as well as the U. K. Financial Conduct Authority raise questions about the particular Russian individuals involved in the scheme, where their money went, and who may have benefited from the vast sums transferred out of Russia. Moreover, around the same time, Deutsche Bank was involved in an elaborate scheme known as 'The Russian Laundromat,' 'The Global Laundromat,' or 'The Moldovan Scheme,' in which $20 billion in funds of criminal origin from Russia were processed through dozens of financial institutions.'
This post was published at Wall Street On Parade on December 5, 2017.