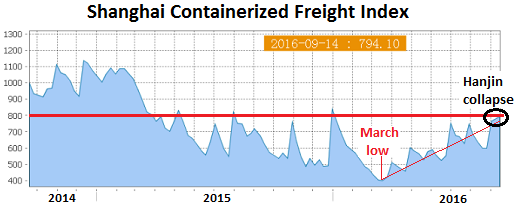 China Containerized Freight Index remains near record low.
Hanjin Shipping Co. filed for the equivalent of bankruptcy protection in South Korea on August 31 and over the past two weeks in the US and dozens of other countries. Some of its ships are still idling at sea, trying to out-wait the uncertainty, and being seized by creditors. Some have made it to port and are being unloaded. Others have already been sold at fire-sale prices.
When US Bankruptcy Judge John Sherwood asked Hanjin lawyer Ilana Volkov if the carrier was liquidating, she said: 'There is no clear visibility yet on what will happen with this business.'
The seventh largest container carrier in the world is not the only carrier in financial trouble. Another huge Korean carrier, HMM, was restructured and bailed out earlier this year, with creditors, including the Korean taxpayer, taking a big hit. The state-owned Korean Development Bank is now its largest shareholder.
Whatever the company-specific reasons, the entire industry has been caught up in a collapse of the rates they charge to transport containers across the seas. This started in early 2015, as a result of a shipbuilding boom of historic proportions, fueled by cheap money, endless liquidity, yield-desperate investors, and over-optimistic projections of demand. It created a vast oversupply of container ships that will continue to get worse through 2017 as a slew of new ships, ordered years ago, are being delivered.
This post was published at Wolf Street on September 18, 2016.