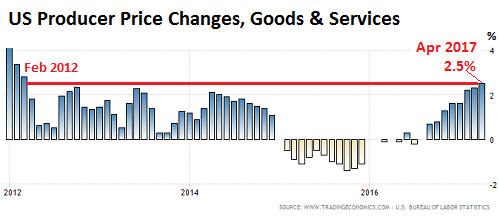 Inflation pressures further up the pipeline rise the most in 5 years.
The Producer Price Index, which measures inflation at the wholesale level for goods and services, and thus up the pipeline from the Consumer Price Index, jumped 2.5% in April from a year ago, the steepest increase since February 2012, blowing past consensus expectations of 2.2% (chart by Trading Economics):
On a monthly basis, seasonally adjusted, wholesale prices rose 0.5% from March. Nearly two-thirds of that increase was due to services, the biggest part of the US economy, where prices increased 0.4% from March. Among the standouts, services less trade, transportation, and warehousing, jumped 0.8% from March.
And it wasn't 'food and energy': the PPI without food and energy ('core' PPI) jumped 0.7% from March, its 11th month in a row of increases. It's up 2.1% year-over-year. Back in March, it was up only 1.7%. So picking up momentum.
This post was published at Wolf Street on May 11, 2017.