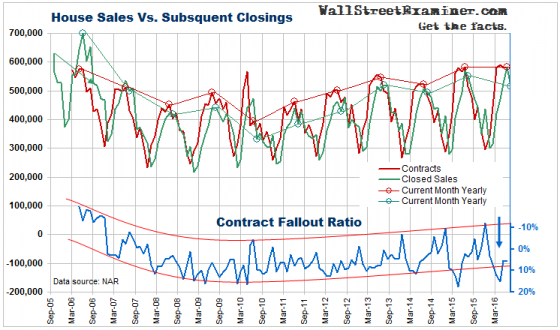 The NAR reported a decline of 3.2% in existing home sales in July. This was the seasonally adjusted fudgepack number. It prompted the Dow Jones flagship Wall Street Journal to trumpet:
U. S. Existing Home Sales Fall for First Time Since February
I prefer to look at the actual data, using the annual rate of change as the basis for comparison. To see whether momentum is slowing or growing, we can compare the annual growth rate of the current month to recent past months. Actual sales in July fell by 6.7% year to year.
So far, so good.
However, there were calender factors involved. July 2015 had 22 business days available for closings versus only 20 in July of this year. While some of those closings would still have been squeezed into last month toward the end of the month, some adjustment to the number would be necessary. On that basis it's likely that the number of closings on a rolling 4 week or 31 day basis would not have been materially different this year versus last year. Compared with a year to year change of 1.7% in June, it appears that the growth in sales volume has merely stalled, not plunged.
That is supported by the June year to year contract data, which the NAR calls 'pending home sales.' Contracts were flat in June. That would normally mean flat growth in closings in the ensuing month.
This post was published at Wall Street Examiner by Lee Adler ' August 24, 2016.