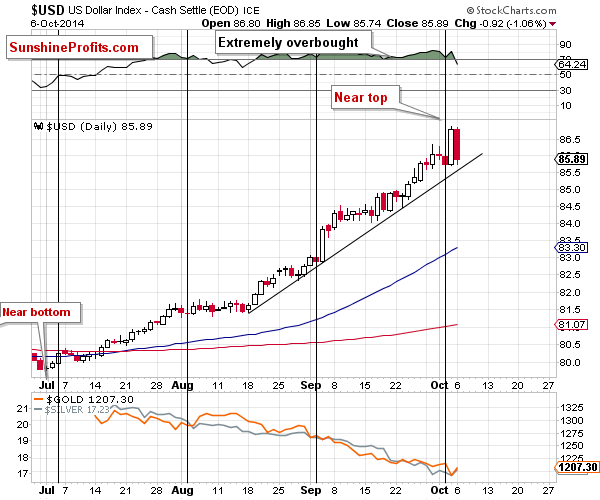 Briefly: In our opinion speculative long positions (full) in gold, silver and mining stocks are justified from the risk/reward perspective.
The precious metals market finally rallied yesterday. Gold moved lower in the first hours of the session, getting very close to the Dec. 2013 low, but it rallied before the session was over, finally closing over $16 higher. Is the final bottom in?
The final bottom – not likely. The local bottom – very likely. Let's examine the charts and see what actually changed (charts courtesy of
Yesterday, we wrote the following:
The Friday's rally was huge and it's no wonder that metals and miners declined. The move took place right after the cyclical turning point, so the odds are that we will not have to wait long for a reversal.
All in all, the outlook for the USD Index is still bearish based on the extremely overbought status, the turning point, and the fact that previous similar breakouts (as seen on the weekly chart) were invalidated.
This post was published at Gold-Eagle on October 7, 2014.