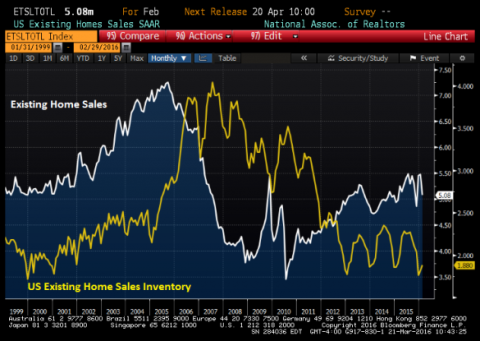 US Existing Home Sales took a plunge in February by more than expected. -7.1 to be exact versus an expectation of -3.0%.
(Bloomberg) – Sales of previously owned U. S. homes dropped more than forecast in February after reaching the second-highest level since 2007 as low inventory levels continue to limit progress in housing.
Closings on existing homes, which usually take place a month or two after a contract is signed, decreased 7.1 percent to a three-month low 5.08 million annual rate after a 5.47 million pace in January, the National Association of Realtors said Monday. Sales were weaker than the most pessimistic forecast in a Bloomberg survey of economists.
Faster growth in residential real estate is being hampered by a limited selection of available properties that has led to higher offering prices. While mortgage rates are attractive, affordability remains an issue for potential first-time and lower-income buyers whose participation would help broaden the market's improvement.
This post was published at Wall Street Examiner by MallardFillmore ' March 21, 2016.