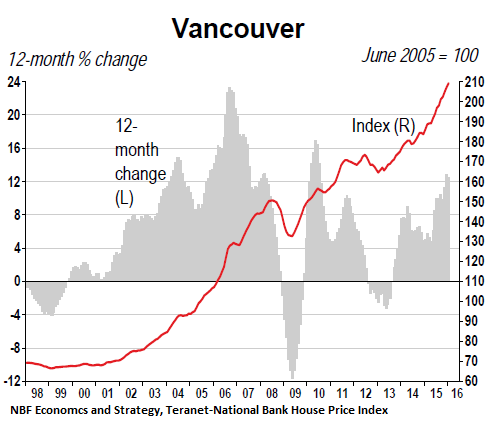 Suddenly lurking in the shadow inventory.
The magnificent housing bubble in Canada has been stumbling recently, propped up largely by the two largest cities, Toronto and Vancouver.
Home prices declined 0.1% in January from a month earlier, the second month in a row of declines, according to the Teranet-National Bank National Composite House Price Index. Even Toronto booked a decline of 0.2%. The oil-dependent regions got hit harder. Prices rose only in four of the 11 metro areas in the index. On a 12-month basis, the index was still up only 5.9%, the lowest 12-month gain in three months.
But Vancouver has none of this slow-down rigmarole. Its housing market is booming, with prices up 12.5% year-over-year, beating Toronto's 12-month gain of 8.5%. Due to their size, they account for well over half of the index.
In Vancouver, prices have now soared 40% from the peak of the bubble just before the Financial Crisis. This chart by NBF Economics and Strategy of the Teranet-National Bank House Price Index shows just how crazy prices have been in Vancouver:
This post was published at Wolf Street by Harry Dent ' March 10, 2016.