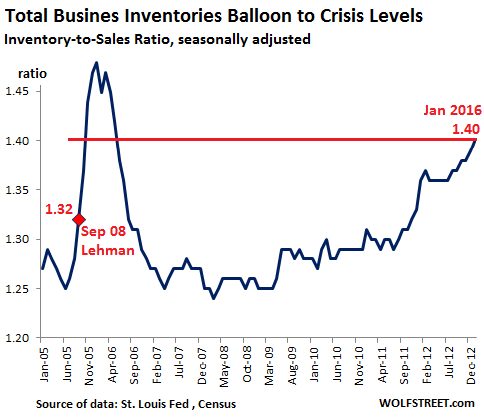 There is no escape.
The Census Bureau announced today that total business sales in January did what they'd been doing relentlessly for the past one-and-a-half years: they fell! This time by 1.1% from a year ago, to $1.296 trillion, and by 5% from their peak in July 2014.
They're now back where they'd been in January 2013. Sales are adjusted for seasonal and trading-day differences, but not for price changes. And since January 2013, the consumer price index rose 2.8%! This is why the US economy has looked so crummy.
That's bad enough. But it gets much worse.
Total business sales are composed of three categories: sales by merchant wholesalers (33% of total), by manufacturers (36% of total), and by retailers (30% of total).
Sales by merchant wholesalers took the biggest hit: they plunged 6.4% from January a year ago, to $433.1 billion.
This post was published at Wolf Street by Wolf Richter ' March 15, 2016.