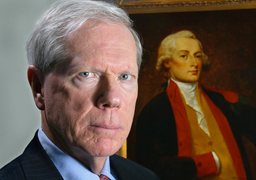 Signs of American collapse are everywhere. Apparently no one notices. The world continues to vote with the US in the UN. When even Russia and China serve as handmaidens to US foreign policy by voting with Washington against North Korea, it appears that the image of America as the exceptional and indispensable country is a propaganda success even among Washington's most threatened enemies. When Russia and China follow Washington's lead, it shows the world that there is no alternative to Washington's leadership.
A country with a $20 trillion public debt, an even larger private debt, a work force drowning in debt and employed in third world lowly paid domestic services, a stock market pumped up beyond all reason by Federal Reserve liquidity and companies using their profits to repurchase their own stock, a military that's been tied down for 16 years by a few lightly armed Muslims, a propaganda ministry instead of a media with public ignorance the consequence, and with a total collapse of morality in public and private institutions along with the disappearance of courage, is nevertheless able to make the entire world dance to its tune. Washington is the Wizard of Oz.
Washington in the past 16 years has destroyed in whole or part seven countries, murdering, maiming, orphaning, widowing, and displacing millions of peoples. Yet Washington still presents itself as the great defender of human rights, democracy, and all that is good. The American people have voiced few words of protest against the massive crimes against humanity committed by 'their' government.
This post was published at Paul Craig Roberts on September 20, 2017.