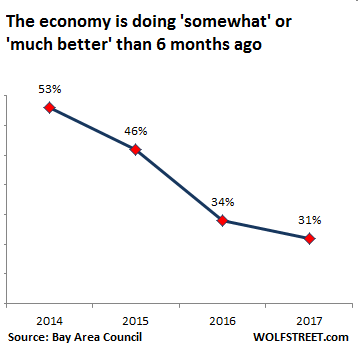 Nearly half the millennials 'likely' to leave.
Confidence in the economy of the Bay Area has plunged, according to the annual Bay Area Council Poll of voters in the nine-county area.
The respondents would be considered privileged based on their income in most parts of the country: 54% made over $75,000 a year; 26% made over $150,000; another 17% refused to give income data. Only 18% made less than $50,000. And 3% were unemployed.
But in the Bay Area, they're fairly typical, struggling with the three top issues: costs of living, housing, and infernal traffic. And they're getting 'dour' about the economy and antsy about bailing out.
Even though the Bay Area economy has been booming for years, the people are seeing a chilling reality. Looking back, only 31% said the economy was doing 'somewhat' or 'much better' than six months ago, down from 53% in 2014:
This post was published at Wolf Street by Wolf Richter ' Apr 4, 2017.