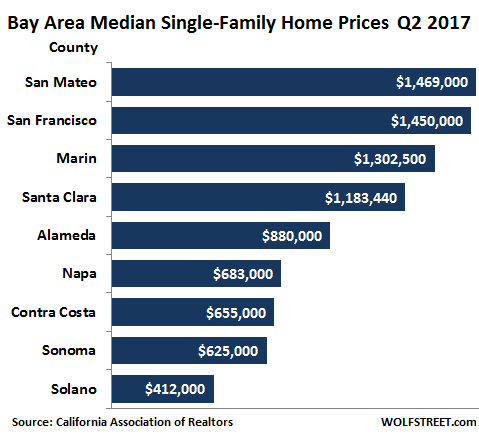 Bay Area housing affordability nightmare hits home, so to speak.
What happens in a large urban market when a young couple with a household income that is far above median cannot afford to buy even a modest home? What happens to that local economy? That's what everyone wants to know, because this is precisely the fate San Francisco, Silicon Valley, and surrounding Bay Area counties are contemplating.
The Housing Affordability Index (HAI), released by the California Association of Realtors (CAR), has some bad news for these people – and possibly for the trends in the local economy and the housing market.
The median price – 50% cost more, 50% cost less – in San Francisco of a single-family house hit $1.45 million in Q2, according to CAR. This does not include condos, whose prices are somewhat less deadly. It puts San Francisco in second place in the Bay Area, behind San Mateo County, which comprises the northern part of Silicon Valley. Santa Clara County, in fourth place, comprises the southern part of Silicon Valley. In third place is Marin County, just north of the Golden Gate Bridge:
This post was published at Wolf Street on Aug 14, 2017.