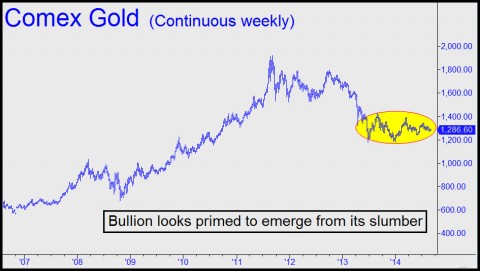 I'm starting to warm once again to gold. Like many of you, I never gave up on it, I had just grown too bored to care. With the bear market in bullion about to enter its fourth year, who could be blamed for losing interest? Gold has looked so punk for so long that every time it rallies sharply, I get that nagging feeling, as you probably do, that we're about to get sandbagged for the umpteenth time. So why the change of heart? All credit to Richard 'Doc' Postma, a friend and regular guest panelist with me on interviews with the (Al ) Korelin Economic Report. Doc, a physician by training, is also an astute investor and market timer. A patient sort as well, he is that rare bird who can watch and wait for months or even years while exceptional opportunities slowly take shape. I hasten to add that on more than one occasion, he has been a crucial step ahead of me in calling some important price swings in gold. Naturally, that got my attention.
He now thinks gold and silver are about to take off – as soon as late September or early October. The very idea of it caused me to look with fresh eyes at my charts for corroborating signs. The inescapable conclusion is that Doc is onto something. The evidence is there for anyone who cares to look. For one, bullion continues to hit marginal new lows, but without breaking down. Rallies have been fleeting, followed by slumps that continue to wear down even gold's most loyal followers. Most telling of all, mining shares have shown increasing reluctance to give ground on days when demand for physical is weak.
This post was published at Rick Ackerman BY RICK ACKERMAN ON SEPTEMBER 2, 2014.