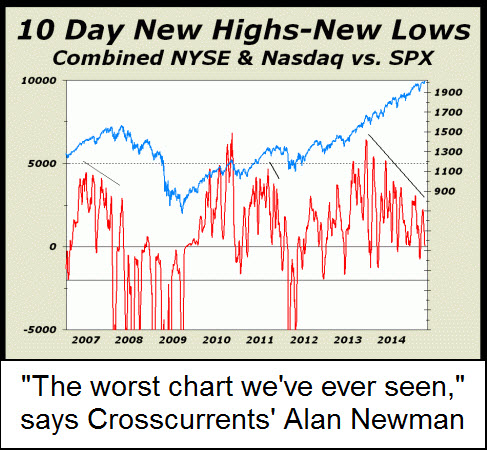 With money velocity collapsing and ominous divergences developing in both the NYSE Advance/Decline line and the New Highs/New Lows summation, U. S. stocks closed at an all-time high last week. If this were not disconcerting enough, the Hindenburg Omen, which signals an increased probability of a stock market crash, flashed red on Friday. There was also this unequivocal pronouncement from the Elliott Wave Theorist after the Dow Industrials came within a single point last week of fulfilling their long-term rally target at 17280: 'Next week, the U. S. stock averages should begin their biggest decline ever.' As for your editor, Rick's Picks has been drum-rolling a key 'Hidden Pivot' target at 2028 in the S&P 500 Index that has been 27 years in coming. On Friday, the index hit a record 2019.
Is a major top at hand? It is often said that bells do not ring to signal the end of a bull market. But if the broad averages were in fact to plummet in the weeks ahead, never forget that bells did indeed ring. Of course, permabulls and Wall Street managers charged with throwing Other People's Money at stocks will not likely have noticed, so intent have they been on headlines proclaiming the soundness of America's alleged economic recovery. Over the weekend, one such story that would have goosed their confidence to giddy new heights concerned the recovery of home prices in the exurbs. To the OPM bozos, nothing says 'recovery' like renewed growth in subprime mortgage debt.
This post was published at Rick Ackerman BY RICK ACKERMAN ON SEPTEMBER 22, 2014.