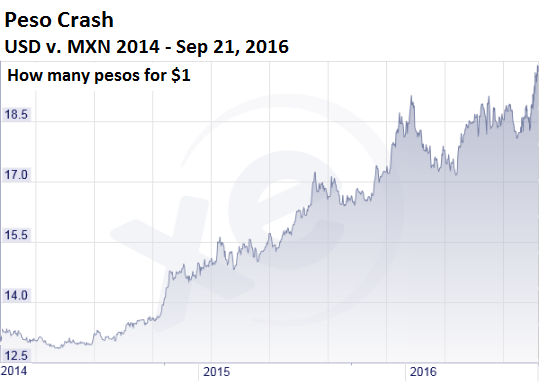 On Monday morning the world's tenth most traded currency, the Mexican peso, set a historic precedent that few Mexicans will welcome. For the first time ever, one US dollar fetched as many as 20 Mexican pesos in some of the nation's banks, including its biggest, Bancomer, following eight consecutive days of losses.
Of all the international currencies tracked by Bloomberg, only the Surinamese dollar fell more against the U. S. dollar last week. The peso also holds the dubious distinction of being the worst performing major emerging market currency of 2016, having lost close to 12% of its value.
So far this week things have only got worse, as the peso's value slumped from $19.64 on Monday morning to $19.83 at the close of Tuesday's trading, while the cost of covering against a depreciating peso has reached historic levels in the derivatives market.
There are plenty of reasons for Mexico's peso woes, including the nation's slowing economy, the government's tightening fiscal strains, and the recent resignation of the Minister of Finance and Public Credit, Luis Videgary Caso, after being blamed for arranging an impromptu meeting between Mexico's Premier Enrique Pea Nieto and the Donald Trump.
This post was published at Wolf Street by Don Quijones ' September 21, 2016.