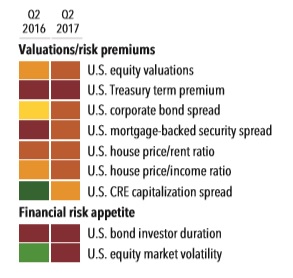 During Fed Chair Janet Yellen's press conference on December 13, she had this to say about financial stability on Wall Street: 'And I think when we look at other indicators of financial stability risks, there's nothing flashing red there or possibly even orange. We have a much more resilient, stronger banking system, and we're not seeing some worrisome buildup in leverage or credit growth at excessive levels.'
Where does Fed Chair Janet Yellen get her information on financial stability risks to the U. S. financial system? A key source for that information is the Office of Financial Research (OFR), a Federal agency created under the Dodd-Frank financial reform legislation of 2010 to keep key government regulators like the Federal Reserve informed on mounting risks.
On December 5, the OFR released its Annual Report for 2017. It was not nearly as sanguine as Yellen. In fact, it flatly contradicted some of her assertions. The report noted that numerous areas were, literally, flashing red and orange (OFR uses a color-coded warning system) – raising the question as to why Yellen would attempt to downplay those risks to the American people.
This post was published at Wall Street On Parade on December 27, 2017.