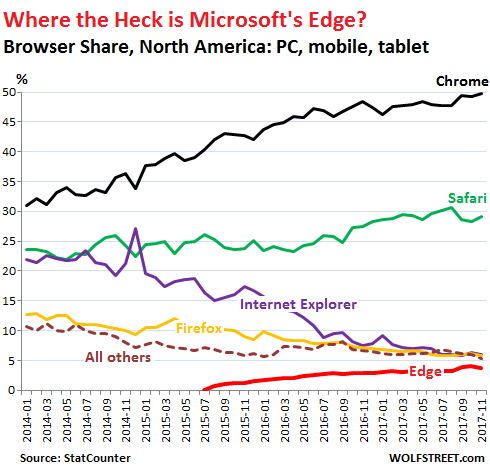 In the North American Browser War, there is only one winner.
When Microsoft released its super-duper Windows 10 in July 2015, it aggressively pushed people with Windows 7 and 8 to 'upgrade' for free to what has turned out to be highly functional and slickly presented corporate spyware. Since then, Windows 10 has been the default system pre-installed on most desktops and laptops sold in North America. It worked: According to StatCounter, Windows 10 now runs on 49% of all PCs (desktop and laptops) in North America.
All Windows versions combined, including Windows 10, run on 74% of PCs in North America, with Apple's operating systems running on 21%, Chrome OS on 3%, and Linux on 1.6%.
Part of the goal of Microsoft's push to get people to install Windows 10 was to get them to use Edge, the browser that comes with Windows 10, so that Microsoft could more seamlessly track what these people are doing on the Internet. But people are spurning Edge.
This post was published at Wolf Street on Dec 17, 2017.