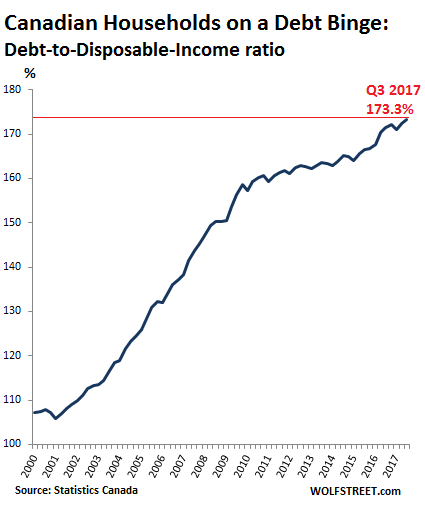 How exposed are over-indebted household to rising interest rates?
Household debt in Canada rose to a new record of C$2.11 trillion in the third quarter 2017, up 5.2% from a year ago and up 10.7% from two years ago, Statistics Canada said on Thursday in its quarterly report on national balance sheets. Mortgages accounted for 65.6% of the total. Canada's infamous household-debt-to-disposable income ratio, one of the highest in the world, rose to a breath-taking record of 173.3%.
The ratio means that households, on average, owed C$173.3 for every dollar of after-tax income earned. This chart shows how the indebtedness in relationship to after-tax income has soared since 2001, when Canada's housing boom took off in earnest:
This post was published at Wolf Street on Dec 14, 2017.