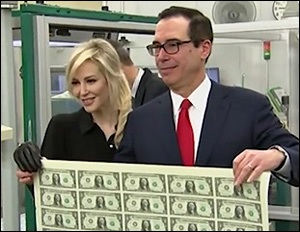 U. S. Treasury Secretary Steven Mnuchin appears to have inaugurated a perpetual bring your wife to work day. It's become so farcical that it frequently feels like the United States Treasury Department has morphed into a low-budget, badly scripted reality TV show where the female star is so out-of-touch that she must continually scurry about in her haute couture erasing the haughty things she has written about the little people on multiple continents. We'll get to that shortly, but first some background:
It all started back on January 19 when actress and then fiance Louise Linton sat by her man during his Senate Finance Committee confirmation hearing to become U. S. Treasury Secretary. At the hearing, Democratic Senator Ron Wyden of Oregon had this to say about his repugnance to see Mnuchin fill the post as U. S. Treasury Secretary:
'Mr. Mnuchin's career began in trading the financial products that brought on the housing crash and the Great Recession. After nearly two decades at Goldman Sachs, he left in 2002 and joined a hedge fund. In 2004, he spun off a hedge fund of his own, Dune Capital. It was only a few lackluster years before Dune began to wind down its investments in 2008.
'In early 2009, Mr. Mnuchin led a group of investors that purchased a bank called IndyMac, renaming it OneWest. OneWest was truly unique. While Mr. Mnuchin was CEO, the bank proved it could put more vulnerable people on the street faster than just about anybody else around.
This post was published at Wall Street On Parade By Pam Martens and Russ Marte.