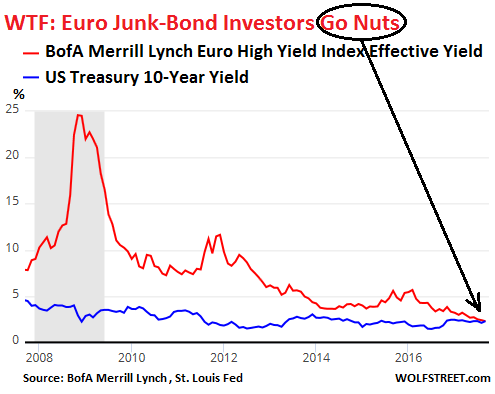 US Treasury Yield v. Euro 'Junk Bond' Yield. A new record in central-bank engineered absurdity.
US Treasury Securities with longer maturities fell this morning, with the 10-year Treasury yield rising above 2.37% early on and currently trading at 2.34%. This is still low by historical standards, and it's still in denial of the Fed's monetary tightening: Four rate hikes since it started this cycle, and the QE unwind has commenced as of today. But it cannot hold a candle to the Draghi-engineered negative-yield absurdity still unfolding in the Eurozone.
The average yield of junk bonds denominated in euros hit a new all-time record low at the close on Friday of 2.30%.
Let that sink in a moment. These euro corporate bonds are rated below investment grade. Companies, unlike the US, cannot print their own money to prevent default. There is little liquidity in the junk bond market, and selling these bonds when push comes to shove can be hard or impossible. The reason they're called 'junk' is because of their high risk of default.
This post was published at Wolf Street on Oct 2, 2017.