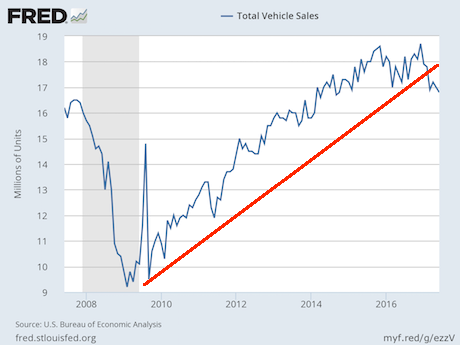 As you know, we've been tracking the sub-prime auto-loan industry closely.
Our view is that this industry represents the worst of the worst excesses of our current credit bubble, much as the subprime mortgage industry represented the worst of the worst in excess for the Housing Bubble.
For this reason, we refer to sub-prime auto-loans as Subprime 2.0.
As you no doubt recall, it was when housing prices rolled over in 2006 that the sub-prime mortgage industry began blowing up. After all, the only reason those loans were being made was because housing prices were going up. So once housing rolled over, it was only a matter of time before the sub-prime mortgage players blew up.
Well, the same thing that happened to housing in 2006 is now happening in automobiles: prices are rolling over. So the value of the underlying assets is now falling.
This post was published at GoldSeek on 3 August 2017.