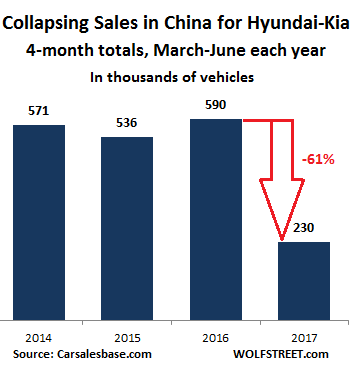 Its largest & second largest markets. In how much trouble is it?
Hyundai Motor Group is getting brutally crushed in its largest market, China, where it is, or rather was, the third largest automaker behind GM and Volkswagen. And it is getting mauled in its second largest market, the US, where it is the seventh largest automaker behind the Big Three US automakers and the Big Three Japanese automakers.
Hyundai Motor Group came about in 1998 after the Asian Financial Crisis, when it obtained a controlling stake in Kia after Kia went bankrupt. The Korean conglomerate, in addition to automakers Hyundai and Kia, has other affiliates, including Hyundai Steel, logistics company Hyundai Glovis, and auto components supplier Hyundai Mobis, all of which are listed separately on the Korean stock exchange.
These entities support and supply the automakers Hyundai and Kia and are dependent on what the automakers sell. And both automakers are in the same boat in China, where things were already hard before the 2017 collapse began.
This post was published at Wolf Street on Jul 25, 2017.