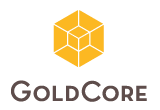 Gold up 1.5% in euros and dollars this week Silver up 1.4% this week and now up 14.3% and is the best performing market YTD Gold up 9% year to date – fourth consecutive higher weekly close and breaks resistance at $1,250/oz Gold up 9.4% in euros year to date as Le Pen's lead in polls widened Gold up another 6.4% in sterling pounds year to date as 'Hard Brexit' looms French and Dutch elections pose risks to Eurozone itself and the entire European Union project Euro contagion risk on renewed concerns this week about new debt crisis due to extremely high public debt and very fragile banks in Greece, Italy and Portugal Gold pushed to near a four month high amid heightened political uncertainty in the U. S. and the EU this morning.
Gold rose another $6.40, or 0.5%, to $1,258 an ounce and is currently set for a 1.5% gain this week. It is higher for a second day today and looks set for a fourth consecutive week of gains which is positive from a technical and momentum perspective.
All precious metals have made gains, gold, silver, platinum and palladium, as both the euro and the dollar weakened.
This post was published at Gold Core on February 24, 2017.