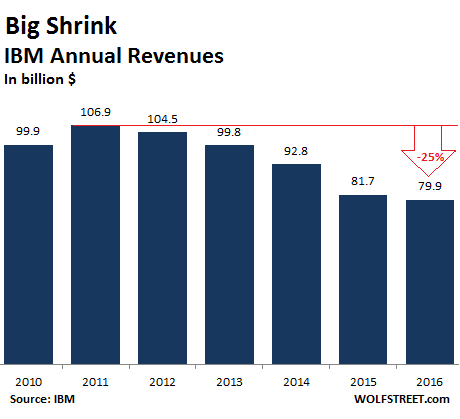 IBM is in trouble and desperate hype is apparently required.
The last thing IBM needs is ending up on the receiving end of a Presidential tweet. So, to forestall this event, it announced in December that it would 'hire' 25,000 workers in the US. But current and already laid-off workers are now pooh-poohing this promise.
IBM is in trouble. Revenues in the fourth quarter fell to $21.8 billion, the 19th quarter in a row of year-over-year declines, IBM reported last week. Annual revenues fell 2% in 2016, the fifth year in a row of declines that none of the executive hype has managed to stem. These annual revenue declines add up. In 2016, revenues were down 25% from the peak in 2011:
This post was published at Wolf Street on Jan 23, 2017.