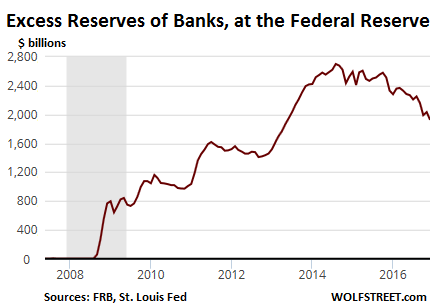 Circuitous hidden wonders of paying interest on 'excess reserves.'
The Federal Reserve just went through its annual ritual of disclosing its preliminary results for the year: The income it earned less its operating expenses, according to central bank accounting, and how much of these earnings it is remitting, as it does every year, to the US Treasury Department. But this statement includes another nugget.
In 2016, the Fed paid our favorite banks $12 billion in interest on their 'excess reserves' held at the 12 regional Federal Reserve Banks (the New York Fed, the Boston Fed, the Dallas Fed, the San Francisco Fed, etc.). But wait… who's actually paying that $12 billion?
Is it just a well-earned freebie for the banks, conjured up out of nothing, in Fed-style? Nope. The taxpayer paid the $12 billion to the banks. Here's how.
The Fed earns interest income from the $2.46 trillion in Treasury securities and from the $1.74 trillion in Agency mortgage-backed securities on its balance sheet. These are the securities the Fed bought from its Primary Dealers with money that it had created under the QE program. So now, it's collecting the coupons. This is its income.
This post was published at Wolf Street by Wolf Richter ' Jan 11, 2017.