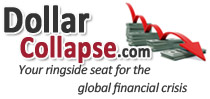 What do the following headlines have in common?
US wages grow at fastest pace since 2009
Euro area economy ended year with strongest growth since 2011
Surge in home prices is beating the one in mortgage rates
Manufacturing in U. S. Expands at Fastest Pace in Two Years
German Inflation welcomed back
Obviously they're all favorable, with the possible exception of German inflation – though even that is 'welcome'. Taken together they paint a picture of a global economy that's finally returning to the kind of solid growth and steady, positive inflation that most people consider both normal and good.
Unfortunately, the reason for the improvement is emphatically not good: In 2016 the world borrowed a huge amount of money and spent the proceeds. The result is 'growth,' but not sustainable growth.
This post was published at DollarCollapse on JANUARY 7, 2017.