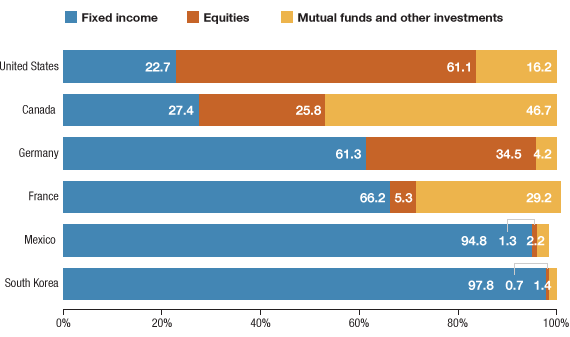 The pension is nearly extinct. Overly optimistic returns left many pension plans practically insolvent and not ready to adapt to a low yield environment. The benefit of pensions however is that it forced people to save over time for retirement. What we have learned via the 401k is that when left to their own devices, people simply are not good at planning for the future especially when it comes to retirement. So now, a full generation into this experiment we are left with many older Americans fully relying on Social Security as their main source of income. That was never the intended use of that program. When we look at US pension plans we realize that they are aggressively betting on equities to make up for the larger returns needed to payout retirees. It might seem that the stock market only goes up over the last few years but as we all know, tides do shift.
The US pension plan
Relative to other countries US pensions aggressively invest in equities. The purpose of this is to chase higher yields since many plans are based on unrealistic 7, 8, or even 9 percent annual returns. This is what is expected to meet beneficiary payout expectations. That is simply unrealistic in this low yield environment.
Pensions in the US are heavily invested into equities:
This post was published at MyBudget360 on Dec 26, 2016.