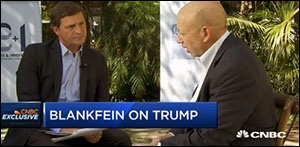 There's a new mantra making the rounds of Washington and Wall Street. No matter how big the lie you're caught in, no matter how much documented evidence exists against you, just deny, deny, deny. That's how Democratic National Committee Interim ChairDonna Brazile handled the email released by WikiLeaks showing that she leaked a debate question to Hillary Clinton; that's how Hillary Clinton handled revelations about sending classified government material over an unclassified server in the basement of her home; and that's how Goldman Sachs CEO Lloyd Blankfein is handling the widespread public perception that there's a banking cabal meeting in secret to plot its continued dominance over the interests of the average U. S. citizen.
Yesterday, CNBC's David Faber interviewed Blankfein and asked about the suggestion that Donald Trump had made on October 13 in a speech in West Palm Beach, Florida that there is an international banking conspiracy undermining the sovereignty of the United States. Faber asked Blankfein: 'So am I to take it that you weren't meeting in secret with international banks and Hillary Clinton to plot the destruction of U. S. sovereignty?' Blankfein responded: 'We could parse that clause by clause, but to every clause, the answer is no, we weren't doing it. We weren't meeting in secret and we certainly weren't plotting destruction.'
The first half of Blankfein's answer is flatly false and he knows it. The big Wall Street banks do meet in secret and have been doing it for decades. His own General Counsel, Gregory Palm, part of the Management Committee at Goldman Sachs, is part of the secret cabal.
Just five days before Blankfein made his false denial, Bloomberg News' reporters Greg Farrell and Keri Geiger had landed the bombshell report that the top lawyers of the biggest Wall Street banks had been meeting secretly for two decades with their counterparts at international banks. At this year's secret May meeting at a posh hotel in Versailles, the following were among the big bank lawyers in addition to Palm according to the Bloomberg report: Stephen Cutler of JPMorgan (a former Director of Enforcement at the SEC); Gary Lynch of Bank of America (also a former Director of Enforcement at the SEC); Morgan Stanley's Eric Grossman; Citigroup's Rohan Weerasinghe; Markus Diethelm of UBS Group AG; Richard Walker of Deutsche Bank (again, a former Director of Enforcement at the SEC); Robert Hoyt of Barclays; Romeo Cerutti of Credit Suisse Group AG; David Fein of Standard Chartered; Stuart Levey of HSBC Holdings; and Georges Dirani of BNP Paribas SA.
This post was published at Wall Street On Parade By Pam Martens and Russ Marte.