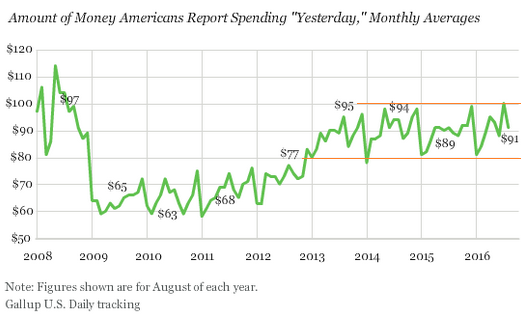 Spending the same to end up getting less.
In all the hoopla about consumer spending – which accounts for about two-thirds of the US economy – and how lethargic its growth has been, despite some months when it perked up and gave rise to hopes that 'escape velocity' would finally kick in, something got lost: how totally range-bound, for the pastfour years, discretionary spending has been.
This measure of discretionary spending excludes household bills and major items such as cars or homes. It hasn't budged in dollar terms for four years, despite inflation eating into the purchasing power of the dollar.
In August, spending by American households dropped once again, according to the Gallup US Daily survey released today. As part of this broad survey, based on telephone interviews (60% cellphone, 40% landline) conducted in August of over 15,000 adults, Gallup asks how much they spent 'yesterday' on items excluding normal household bills and major purchases such as a home or car. Gallup calls it an 'indication of discretionary spending.'
So in August, the tally dropped to $91 spent 'yesterday,' from $100 in July. Keep in mind, this includes households with more than one earner and/or more than one spender. In terms of the prior three Augusts, that was below average ($92.7):
This post was published at Wolf Street by Wolf Richter ' September 6, 2016.