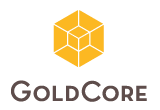 The physical gold delivery failure to clients of Deutsche Bank who own Xetra-Gold, the gold exchange traded commodity, was confirmed yesterday by Deutsche Bourse who said that the inability to deliver gold was not limited to Deutsche Bank and that other German banks were having 'problems' delivering gold.
***
This is yet another example of a bank not making good on promises to redeem their gold investment products, as seen with ABN Amro in 2013 and indeed Julius Baer in recent months as we pointed out yesterday (see here). It is the latest example of the unappreciated risk of owning gold exchange traded commodities (ETCs), exchange traded funds (ETFs) and indeed most institutional gold investment offerings.
Xetra-Gold filed an official response yesterday regarding the physical gold delivery failure, one which can be read in German on the following page and was reported and commented on by Zero Hedge overnight:
What is notable is that instead of immediately refuting the story – as it should have done if there is no breach of prospectus covenants – and declaring that any and all physical gold demands have and will be satisfied, Xetra took a very circular approach to responding, one which in effect confirmed our concerns, that the issue was not so much with Xetra, but with the sponsor bank, in this case Deutsche Bank.
This post was published at Gold Core on September 2, 2016.