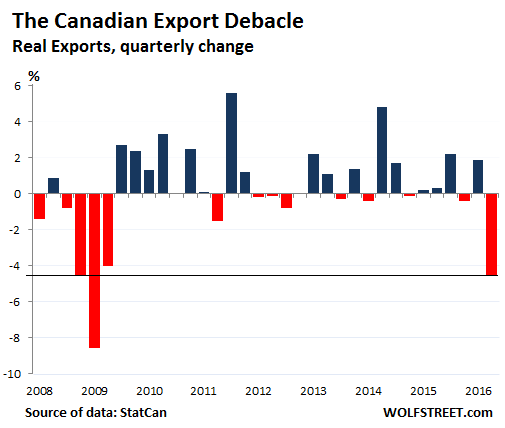 This time, you can't blame the dollar or oil prices.
In the second quarter, Canada's economic activity, as measured by inflation-adjusted GDP, fell 0.4% from the first quarter, or 1.6% annualized, 'the largest decline in quarterly GDP since the second quarter of 2009,' as Statistics Canada put it in its data release.
It was a brutal reversal of the first quarter, when GDP had jumped an upwardly revised 2.5% annualized.
Canada's economy is to a considerable extent dependent on its resource sector, particularly oil and gas. But since mid-February, prices of crude oil, a crucial export product, soared (with the US benchmark grade WTI up over 80%!).
Given the soaring oil prices in the quarter, it's even more unnerving that exports, which add to GDP, plunged 4.5% (nearly 20% annualized!), the worst plunge since Q2 2009. While exports of services edged up 0.6%, exports of good plunged 5.5%.
This post was published at Wolf Street by Wolf Richter ' August 31, 2016.