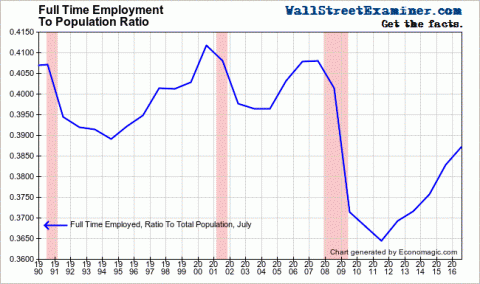 Last week we got the 'good news' that wages are rising. It has been a recurring story over the past several months. The headlines said that hourly wages rose by 0.3% in July on a seasonally adjusted basis. Annualized that works out to just under 3.7% on a compound basis. However, as usual, a bit of perspective is helpful.
Over the past 12 months, the average hourly wage of production and non-supervisory workers, which is most people, rose by 2.7%. Sounds decent but most of that gain came last year. Over the last 6 months, wages rose just 0.2%.
Likewise, the argument that wage growth has recently begun to outpace inflation does not hold water. Compare wage gains to CPI. Over the last year CPI rose by just 1%, but only because CPI was weak in the second half of 2015. Over the past 6 months CPI has risen by 1.9% while average earnings rose by 0.2% and we know that that inflation is understated by perhaps a full percentage point.
This post was published at Wall Street Examiner by Lee Adler ' August 8, 2016.