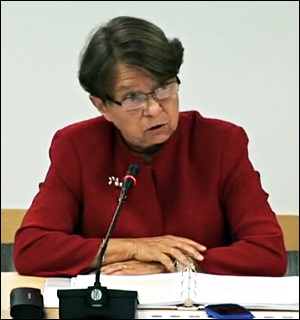 In the Afterword that appears in the paperback edition of 'Flash Boys,' author Michael Lewis writes that following the publication of the hardcover edition of the book in 2014 and his appearance on 60 Minutes (in which he called the U. S. stock market rigged and mapped out the case against high frequency trading) 'it has sounded like a desperate bid by a slumlord to gussy the place up to distract inspectors. In any case, the slumlords seem to realize that doing nothing is no longer an option: Too many people were too upset.'
Doing nothing while going through the motions of doing something perfectly defines the Securities and Exchange Commission. Today the Securities and Exchange Commission is continuing its illusion of dealing with the rigged structure of the U. S. stock market by holding a meeting of its Equity Market Structure Advisory Committee, some of whose members have themselves been charged with rigging the market. Thedeeply conflicted SEC Chair, Mary Jo White, will deliver opening remarks.
As part of the day's agenda, Venu Palaparthi, a Senior Vice President at Virtu Financial is scheduled to appear on a panel addressing 'market quality.' This is what Senator Elizabeth Warren had to say about Virtu at a June 18, 2014 hearing of the Senate Banking Subcommittee on Securities, Insurance and Investment:
'For me the term high frequency trading seems wrong. You know this isn't trading. Traders have good days and bad days. Some days they make good trades and they make lots of money and some days they have bad trades and they lose a lot of money. But high frequency traders have only good days.
'In its recent IPO filing, the high frequency trading firm, Virtu, reported that it had been trading for 1,238 days and it had made money on 1,237 of those days… The question is that high frequency trading firms aren't making money by taking on risks. They're making money by charging a very small fee to investors. And the question is whether they're charging that fee in return for providing a valuable service or they're charging that fee by just skimming a little money off the top of every trade…
This post was published at Wall Street On Parade By Pam Martens and Russ Marte.