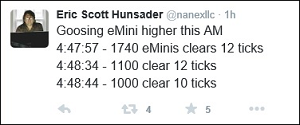 We may have just gotten our answer to the puzzling question of why we can put a man on the moon but the Securities and Exchange Commission can't create a consolidated tape of our markets for forensic auditing purposes: a consolidated tape would tell us just who it is that is messing around with stock futures in the middle of the night as well as creating flash crashes during the trading day.
We thought it was very peculiar that prior to the opening of the U. S. stock market this morning, futures on the Standard and Poor's 500 index had staged a miraculous rally on the heels of distressing manufacturing news out of China last night.
According to the preliminary Caixin/Markit China Manufacturing Purchasing Managers' Index (PMI) which was released last evening, manufacturing activity in China dropped to 47.0 in September, the worst reading since the financial crisis in 2009. Readings below 50 signal that manufacturing is contracting.
As that news was released, futures on the Dow Jones Industrial Average slumped by a sharp 140 points and the S&P 500 futures went into a steep decline. (See S&P E-Mini futures chart below.)
This post was published at Wall Street On Parade By Pam Martens and Russ Marte.