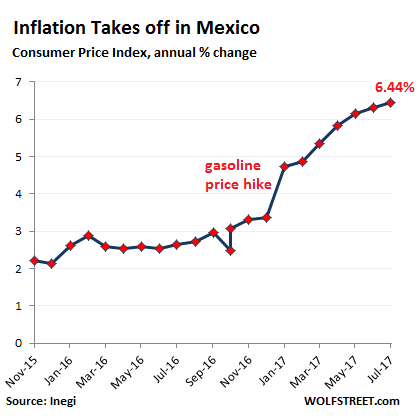 Before the Elections and despite Bank of Mexico's 'monetary shock.' Inflation is a touchy topic in Mexico where wages are tight and not growing fast enough. Inflation is spiking. And consumers, trying stretch ever further just to keep up, are not happy.
Consumer prices, as measured by the national consumer price index, soared 6.44% in July compared to a year ago, according to Mexico's statistics agency INEGI. It was the sharpest annual inflation rate increase since December 2008, sharper than economists had forecast. It has now accelerated for the thirteenth month in a row. And it's very much unwanted by regular Mexicans:
***
The spike in inflation at the beginning of the year was to some extent due to a jump in gasoline prices brought on by deregulation of the gasoline market on January 1. At the time, some politicians in the opposition Democratic Revolution Party called on Mexicans to stage a 'peaceful revolution' against the price increases. It triggered a series of protests, and road blockages snarled traffic for days. But those gasoline prices didn't come back down. On the contrary.
This post was published at Wolf Street on Aug 10, 2017.