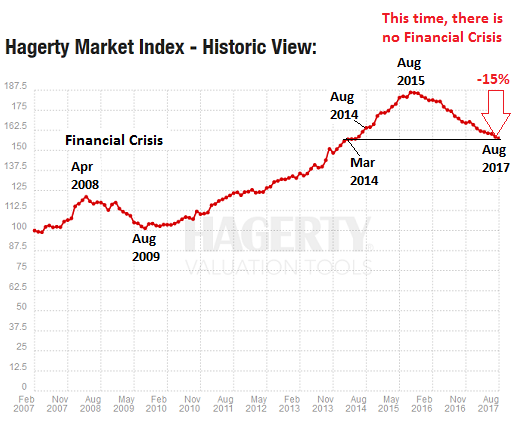 The fate of asset bubbles under the new regime.
Everyone is hoping that next Friday and Saturday, at Sotheby's auction in Monterey, California, the global asset class of collector cars will finally pull out of their ugly funk that nearly matches that during the Financial Crisis. 'Hope' is the right word. Because reality has already curdled. Sotheby's brims with hope and flair:
Every August, the collector car world gathers to the Monterey Peninsula to see the magnificent roster of best-of-category and stunning rare automobiles that RM Sotheby's has to offer. For over 30 years, it has been the pinnacle of collector car auctions and is known for setting new auction benchmarks with outstanding sales results.
This asset class of beautiful machines – ranging in price from a 1962 Ferrari 250 GTO Berlinetta that sold for $38.1 million in 2014 to classic American muscle cars that can be bought for a few thousand dollars – is in trouble.
The index for collector car prices in the August report by Hagerty, which specializes in insuring vintage automobiles, fell 1.0 point to 157.42. The index is now down 8% year-over-year, and down 15%, or 28.4 points, from its all-time high in August 2015 (186).
Unlike stock market indices, the Hagerty Market Index is adjusted for inflation via the Consumer Price Index. So these are 'real' changes in price levels.
This post was published at Wolf Street on Aug 15, 2017.