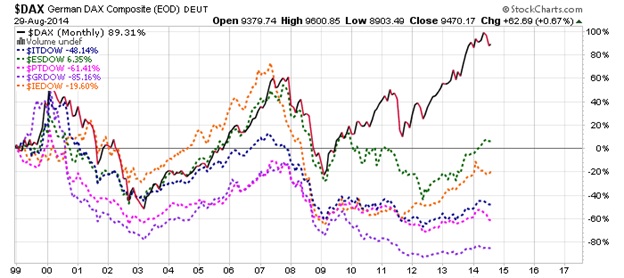 The European Union (EU) was created by the Maastricht Treaty on November 1st 1993. It is a political and economic union between European countries which makes its own policies concerning the members' economies, societies, laws and to some extent security. To some, the EU is an overblown bureaucracy which drains money…and compromises the power of sovereign states. For others, the EU is the best way to meet challenges smaller nations might struggle with – such as economic growth or negotiations with larger nations – and worth surrendering some sovereignty to achieve. Despite many years of integration, opposition remains strong.
ACCORDINGLY, there are signs the EU is teetering on implosion.
Indeed the Euro zone break up is inevitable for numerous reasons.
Unpayable government debts and the massive bailouts in Greece, Portugal, Spain and Ireland logically pave the road to an eventual EU break up.
While it's convenient to have the one currency for 17 different nations, the nature of those national economies and their strength is quite different and problematic. Indeed and fact it favors wealthy countries like Germany and France at the expense of the PIIGS (i.e. Portugal, Italy, Ireland, Greece and Spain).
Another issue is that while the 17 nations share the same Central Bank, they do not have a central control on government budgets, nor central political control.
Paul Griffiths, Colonial First State chief investment officer does not want to put a time frame on the euro zone being shrunk, but says it will eventually be very different from what it is today.
This post was published at Gold-Eagle on September 1, 2014.