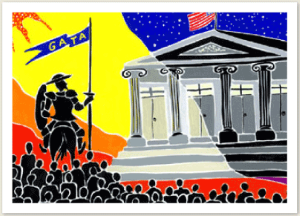 Chris Powell will speak at the end of March at the Mining Investment Asia conference in Singapore — and at the beginning of April at the Mines and Money Asia conference in Hong Kong, Asia being more sympathetic to gold's monetary functions than North America is.
The Mining Investment Asia conference will be held from Tuesday-Friday, March 28-31, at the Marina Bay Sands conference center in downtown Singapore.
The Mines and Money Asia conference will be held Wednesday-Friday, April 5-7, 2017, at the Hong Kong Convention and Exhibition Centre in the Wan Chai section of the city. Participants in the conference can obtain discount lodging rates at the two adjacent hotels, the Grand Hyatt and Renaissance Harbour View.
Of course both cities are spectacular and, being former British colonies, are easily navigable for those who speak only English. So your secretary/treasurer would be delighted to see some of GATA's friends there.
This post was published at GATA