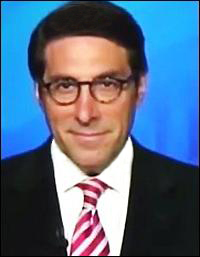 A lawyer who is part of President Donald Trump's legal defense team, Jay Sekulow, has denied the news reports that Deutsche Bank has received a subpoena from Special Counsel Robert Mueller's office for banking records related to Trump and his family members.
In a statement to Reuters, Sekulow stated:
'We have confirmed that the news reports that the Special Counsel had subpoenaed financial records relating to the president are false. No subpoena has been issued or received. We have confirmed this with the bank and other sources.'
But in the same article that relayed that statement from Sekulow, Reuters' reporters Arno Schuetze and Karen Freifeld undercut the credibility of Sekulow's statement by writing the following:
'A U. S. federal investigator probing alleged Russian interference in the 2016 U. S. presidential election asked Deutsche Bank for data on accounts held by President Donald Trump and his family, a person close to the matter said on Tuesday, but Trump's lawyer denied any such subpoena had been issued.'
This post was published at Wall Street On Parade on December 7, 2017.