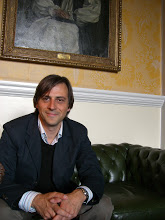 In economics, two key market asymmetries/biases lead to the severe reduction in markets efficiency often marking the departure from theoretical levels of efficiency (speed, with which markets incorporate new relevant information into pricing decisions of markets agents) and the practical outcomes. These asymmetries or biases are: information asymmetry and agency problem.
For those, uninitiated into econospeak, information asymmetry (sometimes referred to as information failure), is a situation, in which one party to an economic transaction possesses greater knowledge of facts, material or relevant to the decision, than the other party. For example, a seller may know hidden information about a car on offer that is not revealed to the buyer. In more extreme example, a seller might actively conceal such information from a buyer. This can happen when a seller 'prepares' the car for sale by cleaning the engine, thus removing leaks and accumulations of oil and / or coolant that can indicate the areas where the problems might be.
The agency problem, also referred to as principal-agent problem, arises when an agent, acting on behalf of the principal, has distinct set of incentives from the principal. The resulting risk is that the agent will act in self-interest to undermine the goals and objectives of the principal. An example here would be a real estate agent contracted by the seller, while taking a commission kickback from the buyer. Or vice versa.
This post was published at True Economics on Saturday, November 18, 2017.