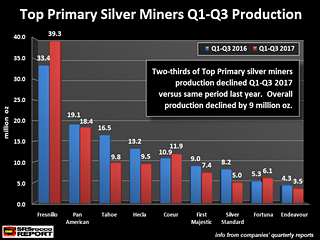 It has been a rough year for many primary silver miners as two-thirds have suffered declines in production. Also, many high ranking silver producing countries are also experiencing a pronounced reduction in their domestic silver mine supply. According to the data put out by World Metal Statistics, Chile's silver production is down 20% in the first eight months of the year, while Australia is down 19%, Mexico declined 2% and Peru by 1%.
The Silver Institute will be releasing their 2017 Silver Interim Report shortly which will provide an update on current silver production and forecasts for the remainder of the year. However, I believe global silver production will take a hit this year due to several factors including, falling ore grades, mine closures, and strikes at various projects.
For example, Tahoe Resources was forced to shut down its Guatemalan Escobal Mine in July due to a temporary suspension of its operating license by the country's Supreme Court. However, even after the Guatemalan Supreme Court reinstated Tahoe Resources Escobal Mine's license in early September, an ongoing road blockade has hampered the ability of the project to continue mining. Regardless, Tahoe's silver production declined a stunning 6.7 million oz Q1-Q3 2017 versus the same period last year.
This post was published at SRSrocco Report on NOVEMBER 13, 2017.