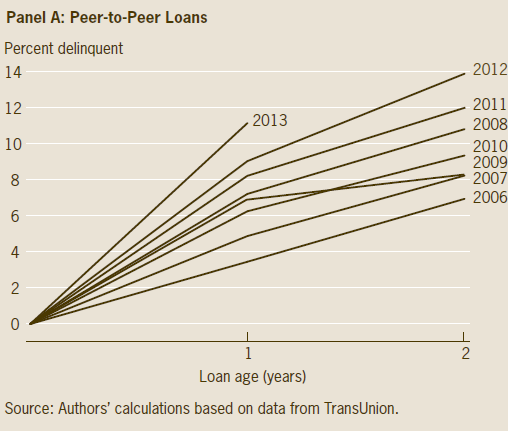 They get debt slaves deeper into high-cost debts they can't handle.
Peer-to-peer lending commenced in the US a decade ago when investors – now mostly hedge funds, banks, insurers, etc. – could lend directly to consumers via online platforms. LendingClub, the dominant player, went public in December 2014. Shares shot up to nearly $30 over the first few days, but are currently at $4.20, after a 23% plunge last Wednesday when it slashed guidance, and after a 2.4% dive this morning.
Now the Cleveland Fed came out with an analysis that focused on the consumer end of the business, called the loans 'predatory,' compared them to pre-Financial-Crisis subprime mortgages because they're now showing very similar delinquency characteristics, and fretted what these P2P loans, given their double-digit growth rates, could mean for financial stability:
Based on our findings, one can argue that P2P loans resemble predatory loans in terms of the segment of the consumer market they serve and their effect on individual borrowers' financial stability. The 2007 financial crisis illustrated the importance of consumer finance and the stability of consumer balance sheets.
This post was published at Wolf Street on Nov 13, 2017.