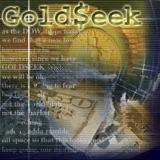 After a severe selloff, precious metals have enjoyed a bit of a respite. Corrections are a function of time and/or price. The correction to the recent selloff has been more in time than price. Metals and miners have stabilized over the past nine trading days but have not rebounded much in price terms. Gold has barely rallied $20/oz while GDX and GDXJ have rebounded less than 4% and 5% respectively. In addition to the weakness of this rally, the gold stocks are sporting a negative divergence and that does not bode well for an end of the year rally.
The negative divergence is visible in the daily bar charts below. We plot Gold along with the gold stock ETF's and are own 'mini' GDXJ index. The price action in Gold since October looks constructive. The market has held its October low and the 200-day moving average. It could have a chance to reach $1300-$1310. However, the miners are saying no to that possibility. Everything from large miners to small juniors made a new low while Gold did not. The second negative divergence is in regards to the 200-day moving average.
This post was published at GoldSeek on Thursday, 9 November 2017.