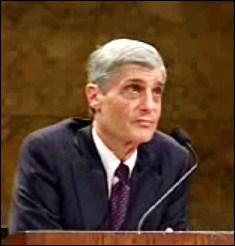 According to the now publicly available transcript of the testimony that former U. S. Treasury Secretary Robert Rubin gave before the Financial Crisis Inquiry Commission (FCIC) on March 11, 2010, he was not put under oath, despite the fact that the bank at which he had served as Chairman of its Executive Committee for a decade, Citigroup, stood at the center of the financial crisis and received the largest taxpayer bailout in U. S. history.
The fact that Rubin was not put under oath might have had something to do with the fact that he showed up with a team of six lawyers from two of the most powerful corporate law firms in America: Paul, Weiss, Rifkind, Wharton & Garrison and Williams & Connolly. One of Rubin's lawyers from Paul, Weiss was Brad Karp, the lawyer who has gotten Citigroup out of serial fraud charges in the past.
As one reads the transcript, it becomes alarmingly apparent that a man making $15 million a year at Citigroup for almost a decade has not involved himself in very many intricate details of how the firm is being run or has a very selective memory. (Rubin gave up his $14 million annual bonus when the bank was blowing up during the financial crisis but kept his $1 million salary. According to widely circulated estimates, Rubin's total compensation for his decade at Citigroup was over $120 million, for a job which he concedes included no operational role and with just two secretaries reporting to him.)
To many of the questions posed by Tom Greene, Executive Director of the FCIC, Rubin responded 'I don't remember.' Rubin used that phrase 41 times during the interview.
At one point, Rubin's own lawyer, Brad Karp, appears to nudge Rubin on his failing memory. Greene asks Rubin if he attended a tutorial for the Board of Directors on September 17, 2007 on the risk environment. Rubin answers as follows: 'It is interesting. I don't remember either going or not going.' Karp then says to Rubin: 'Bob, they have the minutes of this meeting.'
This post was published at Wall Street On Parade on November 8, 2017.