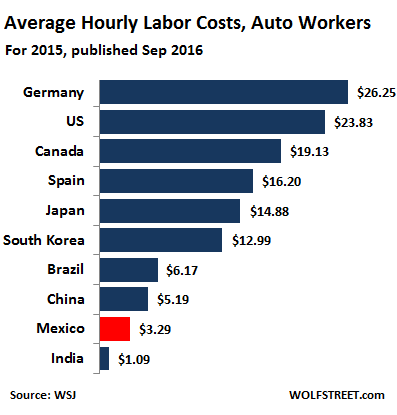 That wages have remained so low for so long is not by accident; it's by design.
President Trump's repeated bashing of the North American Free Trade Agreement between the US, Canada, and Mexico has failed to dull the allure of Mexico's maquiladoras for global manufacturers looking to cash in on the country's much cheaper labor costs. Tecma Group, a firm that helps US and Canadian firms relocate to Mexico, has more business than ever. In the past few weeks alone, it has helped a cleaning equipment company and packaging company move.
Mexico Consulting Associates, headquartered in Chicago, has three new clients interested in Mexico. Keith Patridge, who heads McAllen Economic Development, estimates that at least 12 companies will be installed this year in the north-western city of Reynosa. Another firm, Tacna Services, has helped two companies get set up in the Baja California area.
The southward migration of U. S. companies continues unchecked even as Trump threatens to abandon NAFTA, provoking fear and consternation among manufacturers that have production and supply chains spread across the three countries. If Trump followed through on his threat, traded goods would be subject to tariffs of around 3.5% in the case of Mexican companies and 7% in the case of US ones, according to Benito Barber, an economist for Latin America for Nomura Holdings.
On Tuesday a new coalition of major automakers, suppliers, and car dealers urged Trump not to withdraw from NAFTA. The members of the 'Driving American Jobs' coalition include trade associations that represent major global car manufacturers such as General Motors, Toyota Motor, Volkswagen, Hyundai Motor, and Ford Motor.
This post was published at Wolf Street on Oct 26, 2017.