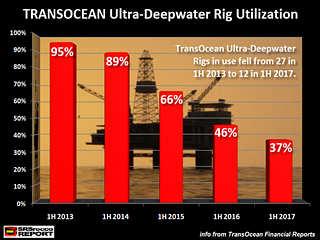 The U. S. Deepwater Offshore Oil Industry is a trainwreck in the making. The low oil price continues to sack an industry which was booming just a few short years ago. The days of spending billions of dollars to find and produce some of the most technically challenging deep-water oil deposits may be coming to an end sooner then the market realizes.
Drilling activity in the Gulf of Mexico hit a peak in 2013 when the price of oil was over $100 a barrel. However, the current number of rigs drilling in the Gulf of Mexico has fallen to only 37% of what it was in 2013. This is undoubtedly bad news for an industry that fetches upward of $600,000 a day for leasing these massive ultra-deepwater rigs.
One of the largest offshore drilling rig companies in the world is Transocean, headquartered in Switzerland. They lease ultra-deepwater rigs all over the globe. When the industry was still strong in 2014, nearly half of Transocean's fleet of 27 ultra-deepwater rigs were leased in the Gulf of Mexico. Even though Transocean was quite busy that year, its ultra-deepwater rig utilization was 89% during the first half of 2014, down from an impressive 95% in 1H 2013.
The term utilization represents the total number of working rigs in the fleet. So, in 2013, Transocean had 95% of its rigs busy drilling oil wells. But if we look at the following chart, we can see the disaster that has taken place at Transocean since the oil price fell by more than 50%:
This post was published at SRSrocco Report on OCTOBER 25, 2017.